William C. Uber: The Man with the Wet Thumb
Article taken from the Spring 2000 issue of Nurserymen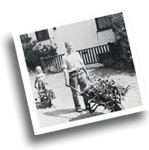 When little Billy Uber was just five years old, he got his start in the nursery business. Like many California nurserymen and women, his aquatic nursery has been a family enterprise for many years. Seventy-eight to be exact.
The Van Ness Water Gardens was founded in 1922 by Robert and Edith Van Ness. The couple read an article in the Saturday Evening Post titled "Gold in Goldfish" and decided to start a goldfish farm. Robert was soon building granite-rimmed ponds for raising their golden crops. Edith, an avid gardener, wasted no time in planting water lilies to adorn the terraced ponds and pools. The Van Ness' soon discovered their customers were more interested in the aquatic plants, than the Goldfish. In 1932 the couple published their first mail order catalog, and began advertising in such publications as the venerable Sunset magazine. Even though the Depression was in full swing, orders began to appear in the mailbox. The catalog advised readers that a water garden was "not only a thing of beauty, but a great source of comfort during these days of stress".

Fast forward to 1952. The Van Ness' sold the Gardens to Edith's first cousin Ted Uber and his wife Louella. The Uber family entered the nursery business and Billy Uber began what would be a lifetime of experience. The whole family, including Billy's older brother and sister, Ed and JoAnn, did what all nursery families did. They worked, and worked, and then worked some more. "We never even watched TV in the evening without first setting up something to do at the same time, like putting mailing labels on catalogs or sorting plant tags" Bill remembers.
The Uber's hard work began to pay off. The business grew by fits and starts. Ted Uber befriended Martin Randig, a hybridizer of tropical water lilies, and by 1959 Randig gave exclusive rights to the Gardens to introduce his creations to the public. Many of these exotic water lilies had been bred years earlier and had never been seen in the trade. Classics of today, such as Afterglow and Leopardess, were of immense interest to the horticulture world. The Uber's suddenly found themselves filling orders from around the globe from botanic gardens in Germany, to the emperor's palace in Japan and the presidential mansion in Zaire.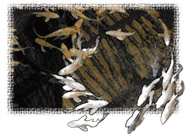 Meanwhile, Bill Uber was growing up in the business, working after school and during the summers doing everything from building ponds to harvesting water lilies. "My parents were delighted when I turned 16 and could get my driver's license" he recalled. "I was quickly sent out to do regular maintenance calls, such as the ponds at the Century Plaza Hotel in LA".
"Once I was knee-deep in a pond at the Los Angeles Zoo, planting water lilies. A crocodile swam slowly past me. I scrambled out of that water as fast as I could" he laughed. And then he "invented" a new way of planting by tying rocks to the tubers and throwing them into the water. "No way was I getting back in there!"
By the early 1970s, it was time for yet another generation to run the family business. Bill and his wife Carolyn began managing the Gardens in 1972, following Bill's discharge from the Air Force. They purchased the business from the senior Uber's in 1976.
Since that time, Bill has expanded not only the business, but also his own considerable knowledge of all things water-related in the landscape. In 1988 Bill authored a book on water gardening. The book has been updated and reprinted a number of times. Today, The Basics of Water Gardening can be found in bookstores across the country and will be featured in Doubleday's Garden Book of the Month Club this spring.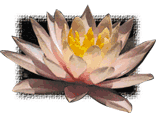 While he has continued to build the retail, wholesale and mail order operations, Bill has a particular interest in developing solutions and innovative techniques. His consultation practice has grown significantly in recent years. He is frequently called upon to provide his expertise for public water features such as golf courses, theme parks, wetlands conservatories and the like. While he remained mum on the "who's who" for this article, he also has directed the construction of ponds, waterfalls and fountains for many of the Southland's celebrities.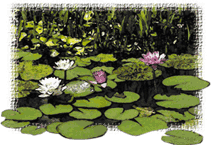 Today the Van Ness Water Gardens builds ponds and also offers regularly scheduled maintenance services. They frequently refurbish older ponds, and one interesting trend that Bill noted was the conversion of swimming pools into ponds. "Typically, they are empty-nesters who are tired of maintaining a pool that no one uses" Bill explained.
A 56-page full color catalog is published annually which offers everything a do-it-yourselfer or landscape professional might need to build, plant and maintain a backyard water garden. The company jumped into e-commerce several years ago, and maintains an extensive web site. The Internet has produced not only direct sales for the company,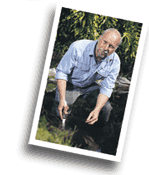 but drives a lot of retail sales as well. "Customers come in with a printout of our downloadable catalog in one hand, and their Yahoo driving instructions from their home to the Gardens in the other hand" Bill described with a grin. We love the Internet!
The newest water lily offered by the firm represents the fifth generation Makenna, a pink hardy variety graces the cover of the 2000 catalog. It is named for little Makenna Marie Littell, the Uber's first grandchild who celebrates her first birthday this month.
Van Ness Water Gardens is located at 2460 North Euclid Avenue, Upland, CA 91786.
Phone (909) 982-2425, Fax (909) 949-7212, Internet www.vnwg.com and Email info@vnwg.com.